Ways to Support your Parish
Tithe – Online Giving

Church of the Good Shepherd utilizes Our Sunday Visitor for online donations. The parish needs you during this difficult time in order to pay bills for daily operation. If you have not signed up yet, you can join fellow parishioners who already participate in this program. It is easy to register. Click the icon above to get started today. Thank you for your continued support of the parish during these difficult times. Your generosity is greatly appreciated.


Christian Outreach Program (COP)
This year-round ecumenical charity group provides food, dental assistance, transportation and housing assistance within the county. Good Shepherd collects non-perishable items throughout the year for their Food Pantry.


Offertory Food Collection

Year round, non-perishable food items are collected for the Isle of Wight food pantry. Specific items are requested each week to be returned to the parish which will then be delivered to COP for distribution.


Barron Dempsey Fund
Year-round, this emergency fund was established in memory of a parishioner for immediate outreach needs within the county.
Donations are accepted in the wooden box in the church commons, through quarterly envelopes, and as funeral memorials.
Hog Jog – Smithfield, Virginia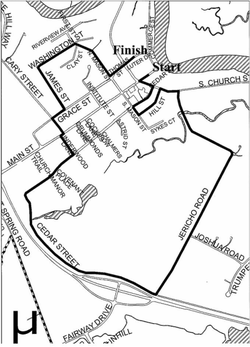 Hog Jog Route:
This annual October event is a 5K and children's fun run that benefits fuel assistance in the county.


Haiti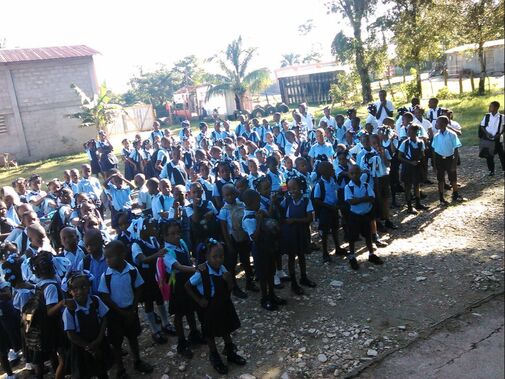 Purpose
Through the Diocese of Richmond Office of Justice and Peace Haiti Ministry, the Good Shepherd Haiti Committee serves Jesus Christ through solidarity and partnership with St. Anthony's of Padua in Croix Fer, Haiti. The committee shall promote fellowship with: the Good Shepherd parishioners; the committee members themselves; the twin parish in Haiti; other twinned parishes within the Richmond Diocese.
Responsibilities
The committee shall organize itself and assign positions to each committee member. Recruitment of new members shall be on-going throughout the calendar year.
Membership
Open to any adult in the parish that wishes to serve on the committee
Meeting Schedule
The Haiti Committee shall meet on a quarterly basis.
Recurring Committee Events
The committee shall hold a fundraising drive for the Sponsor a Haitian Child program during the first three weeks of Lent each year. The timing of the fundraiser drive may be adjusted year to year due to other parish obligations.
Up to four fund raising activities may be undertaken at the discretion of the committee. The timing fundraising events shall be advertised well in advance. All fund raising shall be in accordance with church fund raising guidelines found in the church SOP.
Other Pertinent Information
Mary Ellen Bebermeyer; Co-Chair
Dave Maltby Co-Chair.


United Christian Ministries
Year-round ecumenical organization established to network from area churches and organizations. This group works with COP and Social Services to help provide food and payment of electric, gas, and medical bills of those in immediate need within the county. The funds collected for the Barron Dempsey Memorial Fund are utilized to assist with UCM's requests.


Respect Life
This committee defends the dignity of all human life from its beginning to natural end. Annual events include Walk for Life and collecting baby items for the Crisis Pregnancy Center.


Respect for Life
Pope Francis said "He is worried that so few people are involved in pro-life activities".
Visit our website pro-lifearticles.org to see more Pro-Life Articles, Videos and Images.